Solution: User and Account Management
Be the broker your customers trust
Deploy software with customers quickly and easily anywhere around the world.
Easily respond to your customers' requests for such changes as exchange access, trade routing features, upsizing or downsizing limits, verifying balances and more.
Solution: Risk Management
Risk tools that give you peace of mind
Your customers are trading using leverage. Leverage is a two edged sword: Greater profit potential versus greater loss potential. The latter requires you to have controls in place to mitigate any outlying events that could impact your business. CQG offers tools for you to easily establish and maintain risk parameters for individual and group accounts.
---
Solution: Front-end Software
Deploy trading software that improves customer satisfaction
Improve customer satisfaction and touch points by deploying world-class CQG software and reduce the cost of managing expensive infrastructure. By white-labeling CQG's trading software, you benefit from CQG's 40 years of experience creating professional software. And minimize risk and expense of an entirely different business line. 
Solution: Global Coverage
Extend multi-asset opportunities and multi-broker partnerships to your customers
We continue to expand our global coverage to meet our customers' needs. Our market data feed consolidates more than seventy-five sources for futures, options, fixed income, foreign exchange, and equities as well as data on debt securities, industry reports, and financial indices.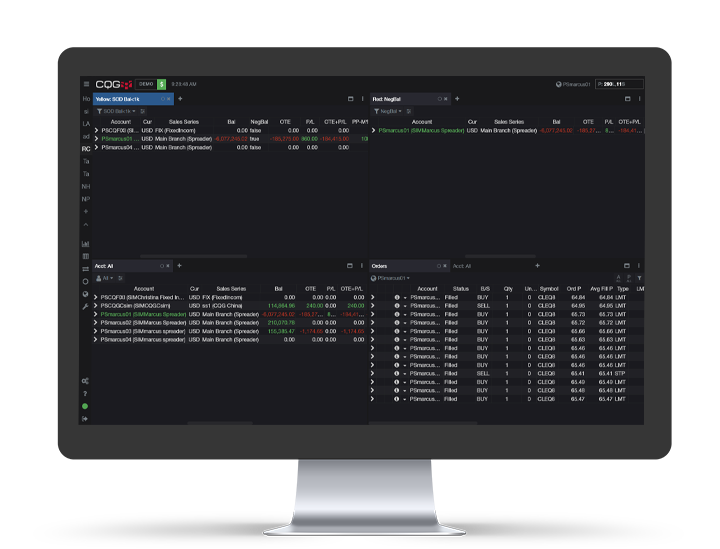 ---
Solution: Custom Price Publishing & Discovery
Eliminate manual work with modern tools
Brokers that manage significant over-the-counter trades are still largely facilitated by brokerage desks filling orders and quoting pricing for custom contracts over the phone. Brokers often reference other systems and call around to put together a complete trade or quote for their customers.
CQG's technology tools drive efficiency across the broker's custom pricing operations, and allow brokers to deliver top-of-the-line service to their customers. Create custom price contracts and control pricing per user or group, and give screens to you customers to see and respond to pricing electronically. Your desk can match and fill custom contract orders and everyone on the desk can see what's occurred, in real-time. You can also create blocks and route them to the exchange. Our custom pricing tools help you work smarter, and we offer a high level of customization tailored to meet your needs.
Learn more about CQG for Custom Price Publishing